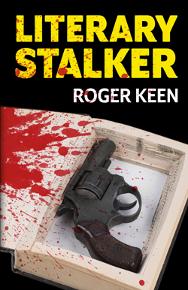 Literary Stalker, a Novel
If you value your life, don't dare to suggest to Nick Chatterton that he's not a good writer!
My new psychological metacrime thriller, Literary Stalker, is now available in paperback and Kindle on Amazon sites worldwide.
Obsessional, narcissistic author Nick is penning his 'masterpiece' –
The Facebook Murders
– killing off his enemies in the manner of Vincent Price in the 1970s horror classic
Theatre of Blood
. But as he gets deeper and deeper into imagined worlds, can he be sure where fiction ends and real life begins?
'Suspenseful, impeccably researched, grisly, with judicious helpings of macabre humour, I relished this 'Russian doll' story-within-a-story.' — Simon Clark, author of The Night of the Triffids and Vampyrrhic
'I really enjoyed Literary Stalker. It's pacy, unpredictable and often very, very funny...' — M.R. Mackenzie, author of In The Silence
'Literary Stalker works wonderfully as a genre thriller with a delightfully absurd comic edge…' — Noel Megahey, Geek Life
For more details, including content description and links to reviews, articles and retail outlets, click here:
Beat Writers and the Psychedelic Movement
My Breaking Convention talk from July 2015 is now up on Vimeo.
In their writings and lifestyle experiments, the Beat writers were very much the precursors of the psychedelic movement. They were pioneering users of ayahuasca, mescaline, psilocybin and LSD; and when Timothy Leary began his Harvard work he naturally tried to induct the three as elder statesmen figures...
The Mad Artist: Psychonautic Adventures in the 1970s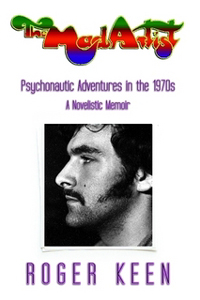 A novelistic memoir, glimpsing into the more rarefied realms of alternative life in 1970s Britain.
'…a significant addition to the canon of psychedelic literature.' — Leaf Fielding, author of To Live Outside the Law
'The whole story is a delight from beginning to end.' — William J Booker, author of Trippers
'I highly recommend this book to anyone with an interest in psychedelics, good writing and the human condition.' — Rob Dickins, Editor in Chief The Psychedelic Press UK
'…one of the best UK drug memoirs, highly recommended.' — Professor Harry Sumnall, Liverpool John Moores University
'…a dazzling, intelligent and ambitious quest to cut through conventional ways of looking at the world that ultimately yields impressive and potentially life-changing results.' — Noel Megahey, Digital Fix Reviewer
Available as a paperback and e-book in online stores in the UK, the USA and many other parts of the world.
For more info, including content description, review excerpts, links to sample chapters and the full range of retail outlets, click here: The Mad Artist
The Mad Artist contains two epic LSD trip sequences, both taking place in woodland settings in South Devon. This film was inspired by those experiences and shot in the actual location of one of the trips. It replicates the unique primal intensity of woodland tripping, using extensive muti-layered video effects and complementary sound design.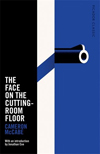 An analysis of the genre of 'metacrime', citing research done surrounding Literary Stalker and featuring Cameron McCabe's 1937 novel The Face on the Cutting Room Floor. Way ahead of it time, this work uses many meta devices, such as nested narratives and multiple narrators, self-deconstruction and rug-pulling to undermine the 'facts' of the story. It is a clever and artful work which has enriched the current scene with its rediscovery.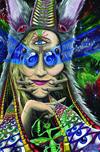 The Man and the Legend: An Appreciation of Howard Marks
Published in Psypress Vol XXI, my in-depth profile of the legendary cannabis smuggler revisits his colourful career — from Oxford graduate to Mr Big, to jailbird and then author and celebrity. Along the way, I show how he carefully cultivated his own mythos, which proved to be a double-edged sword when the forces of law came after him, but gave him the material for three memoirs and hundreds of stand-up performances. Having died from cancer in 2016, he is much missed.

This article was adapted from my talk at Breaking Convention 2015, held in London at Greenwich University. It has now been published by the excellent Oak Tree Review, which investigates the many branches of psychedelic culture throughout history, specialising in its manifestations in art and literature. The article explores how the Beat writers were very much the precursors of the psychedelic movement, pioneering use of ayahuasca, mescaline, psilocybin and LSD, as well as the 'hippy lifestyle'.
Copyright © 2004-18 Roger Keen. All Rights Reserved.