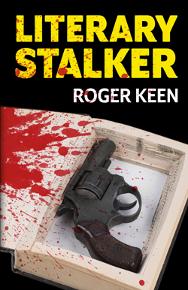 Literary Stalker, a Novel
If you value your life, don't dare to suggest to Nick Chatterton that he's not a good writer!
My new psychological metacrime thriller, Literary Stalker, is now available in paperback and Kindle on Amazon sites worldwide.
Obsessional, narcissistic author Nick is penning his 'masterpiece' –
The Facebook Murders
– killing off his enemies in the manner of Vincent Price in the 1970s horror classic
Theatre of Blood
. But as he gets deeper and deeper into imagined worlds, can he be sure where fiction ends and real life begins?
'Suspenseful, impeccably researched, grisly, with judicious helpings of macabre humour, I relished this 'Russian doll' story-within-a-story.' — Simon Clark, author of The Night of the Triffids and Vampyrrhic
'I really enjoyed Literary Stalker. It's pacy, unpredictable and often very, very funny...' — M.R. Mackenzie, author of In The Silence
'Literary Stalker works wonderfully as a genre thriller with a delightfully absurd comic edge…' — Noel Megahey, Geek Life
For more details, including content description and links to reviews, articles and retail outlets, click here:
Literary Stalker: Model Villages, Metacrime & Möbius Strips
In this fourteen-minute film, I visit the model village at Bourton-on-the-Water in the Cotswolds and use it to talk about the metafictional elements in Literary Stalker and other books and films. This model village is a particularly fine example of the art, completed in 1937 after five years of work.
The Mad Artist: Psychonautic Adventures in the 1970s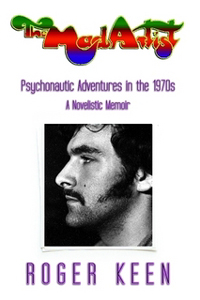 A novelistic memoir, glimpsing into the more rarefied realms of alternative life in 1970s Britain.
'…a significant addition to the canon of psychedelic literature.' — Leaf Fielding, author of To Live Outside the Law
'The whole story is a delight from beginning to end.' — William J Booker, author of Trippers
'I highly recommend this book to anyone with an interest in psychedelics, good writing and the human condition.' — Rob Dickins, Editor in Chief The Psychedelic Press UK
'…one of the best UK drug memoirs, highly recommended.' — Professor Harry Sumnall, Liverpool John Moores University
'…a dazzling, intelligent and ambitious quest to cut through conventional ways of looking at the world that ultimately yields impressive and potentially life-changing results.' — Noel Megahey, Digital Fix Reviewer
Available as a paperback and e-book in online stores in the UK, the USA and many other parts of the world.
For more info, including content description, review excerpts, links to sample chapters and the full range of retail outlets, click here: The Mad Artist
The Mad Artist contains two epic LSD trip sequences, both taking place in woodland settings in South Devon. This film was inspired by those experiences and shot in the actual location of one of the trips. It replicates the unique primal intensity of woodland tripping, using extensive muti-layered video effects and complementary sound design.

Newly released from Arrow Academy, 4K restoration featuring a reversible sleeve and a host of new extras, including full Floor 7½ corporate video seen in the film, full pseudo-documentary "Dance of Despair and Disillusionment" and an in-depth essay from myself about the magic fusion of Malkovich and Kaufman.

With its many striking tropes, shocks and grotesque elements, the folk horror sensation Midsommar has become a big talking point among fans of weird and psychedelic movies, and my favourite of the moment. Here is an in-depth article I wrote for the Sweden-based psychedelic culture site The Oak Tree Review, run by Henrik Dahl.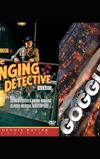 Just for fun, my version of a highbrow intellectual Gogglebox-style conversation between an upmarket Hampstead couple. The TV drama under discussion is Dennis Potter's The Singing Detective, with its complex layered structure, lip-synching and metafilmic devices providing material — and not forgetting some strong sexual references.
Copyright © 2004-19 Roger Keen. All Rights Reserved.