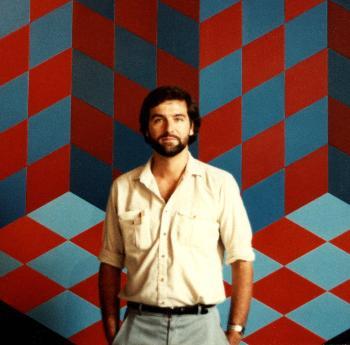 Roger Keen in a Parisian art gallery in the mid-1980s
Roger Keen was born in London and lived in Dorset and the Midlands before settling in Plymouth in 1970. He attended Plymouth College of Art & Design and later Bournemouth & Poole College of Art & Design, studying fine art, photography and film. Since then he has worked extensively in television, contributing to many award-winning programmes for the BBC, ITV, Channel 4 and independents.
In the '80s he was involved in shows such as The World About Us and Wildlife On One for the BBC, and drama series such as Robin of Sherwood for ITV. In more recent times he has concentrated on children's and educational programming, light entertainment and documentaries, several of which have won Royal Television Society, Worldfest-Houston and other awards. In addition to broadcast work, Roger also makes short creative films and undertakes filming projects for private clients.
Roger is also a feature writer and journalist, with articles, interviews and reviews — mainly on the subjects of film and literature — appearing in various magazines and anthologies, including Out of the Shadows, Psypress UK, Critical Wave, Writer's Monthly and The Third Alternative. He also wrote short stories in the '90s, several of which appeared in magazines of that era, such as Psychotrope, Threads, Sierra Heaven, Flickers 'n' Frames and Saccade. In the internet age he has done review and feature work for many webzines, including International Times, The Digital Fix, Reality Sandwich, The Oak Tree Review, DVD Times, The Alien Online, The Zone, Video Vista and Infinityplus. He also writes booklet essays for classic films released on Blu-ray for Arrow Video and Arrow Academy.
His memoir The Mad Artist: Psychonautic Adventures in the 1970s was published in 2010 and Literary Stalker came out in 2017 from Darkness Visible.
Copyright © 2004-21 Roger Keen. All Rights Reserved.